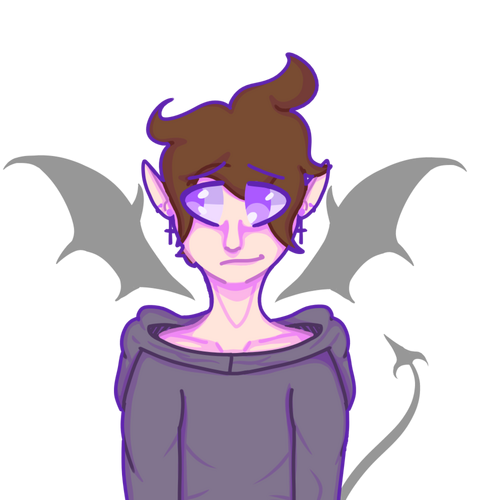 "Well if you're asking, i'm a hot mess fallen from heaven, but nice to meet you too."
Basic Information
First Name: Zarius (Zair-ee-us)
Middle Name: Zackaria (Zahck-ah-rye-ah)
Last Name: Puryu (Per-you)
Species:Hellhound/Demon Mix
Gender: Male
Age: Appearance: 23 Actual Age: 93
Sexual Preference: A-sexual A-romantic with No gender preference
Themesong: Unknown

Physical Description
Skin Color
A ghostly pale with a faint, peachy tint.
Eye Color
A deep blue with lilac hints.
Hair Style
Shaved along his right side, falling into a large braid on his left covering his left eye.
Hair Color
Gradating Brown from Dark at the center to lighter tips.
Piercings
Double lilac piercing in both ears, thinking about getting lilac stars/planet hip piercings.
Tattoos/Scars
shimmering lilac meteor tattoos along his arms, right side of his face, chest and two swirling down his back, the ones on his right shoulder making a rune-like marking.


two parallel scars along his left cheek, two scars along the left side of his neck, a tear in his right ear.
Personality Traits
Positive
Flirtatious.
Loyal.
Mischievous.
Serious at Times.
Cautious around Strangers.
Negative
Easily Teased.
VERY Submissive.
Somewhat gullible.
Clumsy.